Learn everything you need to know before planning a travel to Cappadocia.
Cappadocia is an attractive destination for the carved churches and underground cities of the early Christians that stands out as a center of cultural and belief tourism, beautiful region in central Turkey famous for its fairytale scenery, cave dwellings, remarkable rock formations and, of course, the hundreds of hot air balloons that soar in the sky during sunrise each morning.
Where is Cappadocia Located?
Cappadocia, ancient district in east-central Anatolia, situated on the rugged plateau north of the Taurus Mountains, in the centre of present-day Turkey.
The boundaries of the region have varied throughout history. Cappadocia's landscape includes dramatic expanses of soft volcanic rock, shaped by erosion into towers, cones, valleys, and caves.
Rock-cut churches and underground tunnel complexes from the Byzantine and Islamic eras are scattered throughout the countryside.
Practically speaking, it is 10-12 hours by bus from Istanbul, 8-10 hours from Antalya, and a 5 hour bus ride from Ankara.
You can fly from these places in an hour or less into either Kayseri or Cappadocia (Nevşehir) airports and then drive or take the shuttle the remaining 45-60 minutes.
How to go to Cappadocia from Istanbul?
By bus to Cappadocia from Istanbul, To start with, you should know that there are about 750 kilometers, so the trip will be long. The cheapest way, but also the most time consuming, is the bus.
By plane to Cappadocia from Istanbul, Another option, faster but also more expensive than the previous one, is the plane.
When is the best time to travel to Cappadocia?
To visit Cappadocia it is best between April and June, as well as September and October, in this case, better avoid the months of July and August because it can be very hot.
Which Month is best to visit Cappadocia?
May to the end of June, September and October is the best time to travel to Cappadocia in terms of temperature.
Mid-December to mid-March. Snowfalls usually begin in late December lasting until early or mid-March, and the wind blows strong, so it is normal for balloon flights to be suspended.
Mid October to mid December, Mid March to late April, Good time to travel to Cappadocia; it's cold but tolerable.
July and August, the sun is hardly recommended in Cappadocia's summer (over 35ºC).
Must-see Places in Cappadocia?
Goreme Open Air Museum, Today's Goreme is considered the place where the educational system of the Open Air Museum monastery began. There are many churches in and around the Göreme Open Air Museum.
The best known structures are Tokalı Church, Saint Eusthatios Church, Saint Daniel Chapel, Madonna (Virgin Mary) Church, Kılıçlar Church, El Nazar Church, Aynalı Church, Rahibeler (Sisters) Monastery, Saint Basel, Elmalı Church, Saint Barbara Chapel, Yılanlı Church, Karanlık (Dark) Church, Saint Catherine Chapel and Çarıklı Church.
Derinkuyu Underground City, located in the center of Derinkuyu district, you can accept the most attractive underground complex in Cappadocia.
Today only 10% of the city is open to visitors and with its 85m depth and 8 floors it is truly fascinating. The city is expected to be 12 stories tall and extend 4m underground.
The city was restored in 1965 and nearly 20,000 people are anticipated to have lived in the city.
Kaymakli Underground City, the largest underground city in the region. This underground city was open to the public in 1974 and is between 7 and 8 stories tall and is anticipated to have an underground connection to the Derinkuyu Underground City, 10 km away.
The visiting floors are the first four floors. The construction period of the underground city is not exactly known, but it is assumed that it could have been built or improved during the Arap invasions (7-8 centuries). It is understood that the underground city can house 15-20 thousand people in itself.
Ihlara Valley, is an open-air museum and an ideal option for the hiking trail. In the middle of the valley runs the Melendiz stream, whose old name was Potamus Kapadukus.
Uchisar, the famous Uchisar castle that was built on the highest point in the region, has been used as an important defense point against invasions during the Roman and Byzantine periods.
Urgup fairy chimneys, with a conical body and a rock on top. Three Graces are the bright three fairy chimneys.
Avanos, Ceramics Center since Hittite times. Avanos, his name was Venessa. The tradition of making pottery in the district dates back to the Hittites. Ceramic clay made from red soils and marl brought by the Red River.
Pasabag, Fairy Chimneys (mushroom shape), Valley of the Monks. The region that used to be called Priests Valley, is decorated with very interesting natural formations. A nice place to walk. It was used for seclusion by priests destined to live a solitary life.
Devrent, Fairy Chimneys (Animal Shape), Valley of Imagination. Devrent Valley, also known as the Valley of the Fairy Chimneys. Not very large valley, with small uneven tuff cones.
Selime Castle is one of the largest monasteries in Cappadocia. Cut into the soft tuff rocks, it contains many caves for all the different needs of a monastery.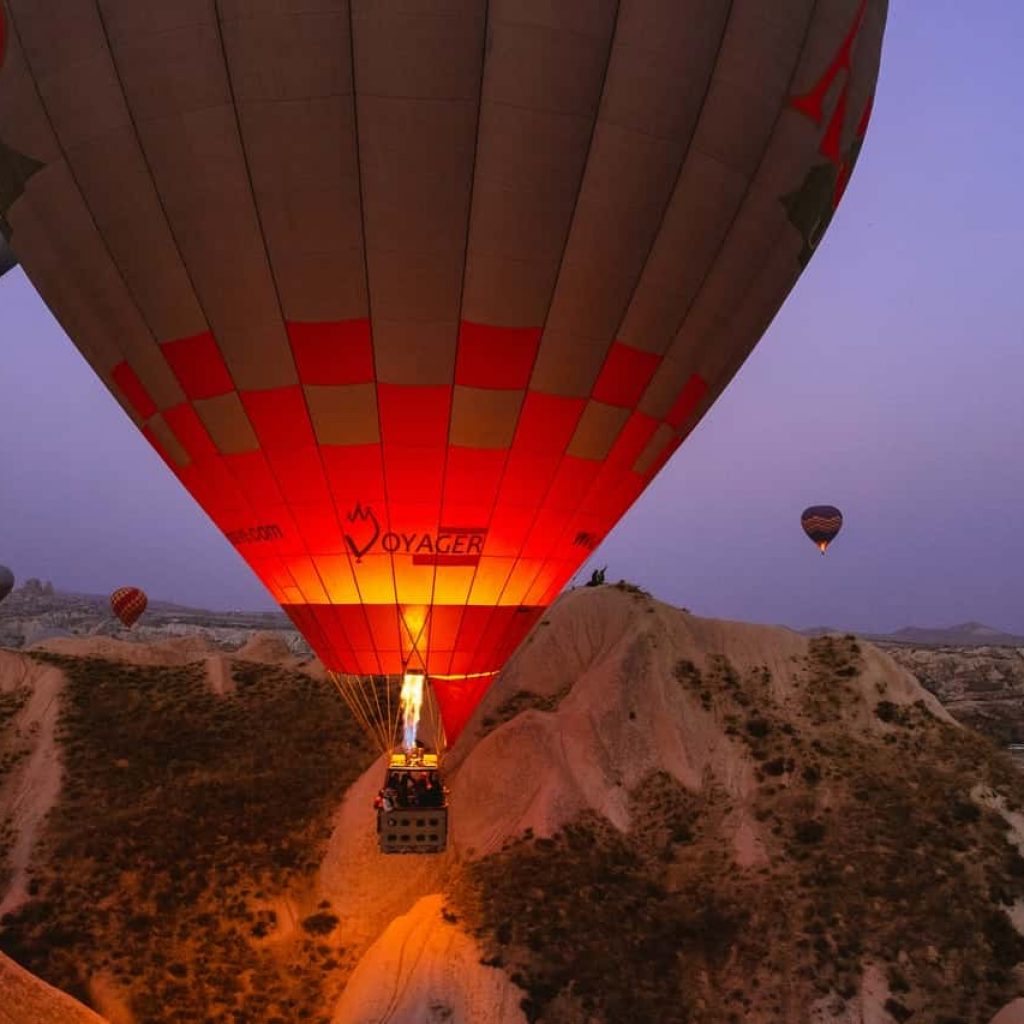 Where to stay in Cappadocia?
The famous cities of the region are Göreme, Urgup, Uchisar, Ortahisar and Avanos. So where to stay in Cappadocia?
People in Cappadocia have been residing among the legendary rocks and caves for thousands of years and have converted some of them into hotels, apartments, and shops. Now, travelers from all over the world have the opportunity to experience a part of this lifestyle.
Well, let's list the accommodation areas in Cappadocia. We hope this post helps you decide where to stay in Cappadocia.
Goreme
Goreme is the center of all tourism in Cappadocia. It is without doubt the most touristic city as a major travel and our travel agency based here. If this is your first time in Cappadocia, then Göreme is definitely the most convenient place to stay.
Göreme is usually the main choice. Yes, it is busy and full of tourists, but it comes in handy in the availability of hotels, restaurants and activities.
This town is located in the province of Nevşehir, 12 km from the city of the same name. The main attraction of the town, and perhaps the entire Cappadocia region, is the Göreme National Park, declared a World Heritage Site by Unesco in 1985.
Additionally, in Göreme you can visit the Valley of the Roses (Güllüdere Vadısı), a place from which you can appreciate some of the most spectacular views of the fairy chimneys and visit other Christian temples, not as famous as those found in the National Park, but equally impressive. In the town of Göreme you will also find the Göreme Open Air Museum.
Urgup
Urgup is a wealthy city built on a hill with beautiful views of Cappadocia. Urgup is one of the preferred places to stay in Cappadocia.
The city has very few low-end hotels, but it does have some charming, stylish boutique cave hotels. There are no important places to see, the main city is pretty and has a winery that you can visit.
There is a good selection of upscale restaurants to choose from. It is quite easy to base yourself in Urgup and visit the main attractions in the region. An excellent option if you are looking for a more sophisticated option and do not worry about visiting bars and pubs.
Uchisar
The town of Uchisar, with its famous castle, is another possible option to stay in Cappadocia, near Göreme. Uchisar guarantees the best views of Cappadocia, although it is really peaceful.
In Uchisar, you can also find a great selection of hotels and restaurants.
Ortahisar
In this town you will find beautiful cobbled streets flanked by old houses immersed in stone, as well as fragrant citrus shops, hidden among its streets.
In addition, you will be able to enjoy imposing views from the Ortahisar Castle, an 18-meter-high rocky monolith that stands in the middle of the town and was used as a fortress in Byzantine times.
Avanos
Avanos, Ceramics Center since Hittite times. Avanos, his name was Venessa. The tradition of making pottery in the district dates back to the Hittites. Ceramic clay made from red soils and marl brought by the Red River.
Avanos is an alternative that you can write on your list of where to stay in Cappadocia.